Karamba Security Joins Sompo Risk Management and Ierae Security to offer "Car Hacking Challenge" In CODE BLUE security event in Japan
Tokyo, Japan – November 1st, 2018 – Karamba Security, a world-leading provider of automotive cybersecurity today partnered with SOMPO Risk Management and Ierae Security in the largest security event in Japan, CodeBlue starting November 1st 2018.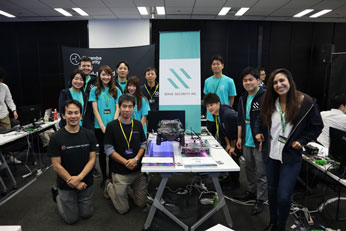 The partnership is focused on matching security research capabilities with the latest security protection technologies, presenting the state of the art in automotive cybersecurity as the industry moves towards the future of smart mobility.
Together Karamba, Ierae and Sompo offer in the event a contest in which over 10 team of challengers attempted to hack a car's In-Vehicle Network (IVN) based on the CAN protocol. The challenge provides multiple layers of defense available in the Karamba SafeCAN solution, gradually making the hack more difficult and get participants to understand how the IVN protection works.
As the challengers are trying to take control over the Karamba Robocar which is equipped with the most advance CAN Authentication Encryption technology, and send commands to the engine and steering.
As they progress to the next stage of the challenge each time, security functions to protect the in-car network are presented, creating an incremental increase in difficulty. The team that obtains the most points in two days will emerge as the winner. The details of the challenge are listed here.
Sompo Risk Management focuses on cybersecurity in Japan and Ierae Security Research capabilities are key in the progress of cybersecurity best practices in the Japanese market, Karamba, with its representative in Japan Asgent, is honored to partner with these companies to challenge the Japanese researchers with advance protection technology and improve the safety of the connected autonomous car.