Karamba XGuard Monitor
Manage Security at Scale
Karamba XGuard Monitor
Leveraging the XGuard embedded agent, Karamba XGuard Monitor provides continuous security awareness and Detect and Response for IoT device operation.
IoT-Specific Detect & Response
XGuard Monitor detects a wide variety of device-focused security incidents, such as command injection and access manipulation, with a proliferation of security indicators, and it provides root cause analysis of suspicious behavior.
Device2Cloud Efficient Architecture
XGuard Monitor works within the connectivity limitations of the device, with unique adaptive traffic management between local, real-time, rules and comprehensive, cloud-level analytics.
Actionable Intelligence
Merging device and security know-how, XGuard Monitor provides interfaces to the security operations center (SOC) for high-fidelity alerts on abnormal behavior on the device, as well as secure access for a rapid incident response process.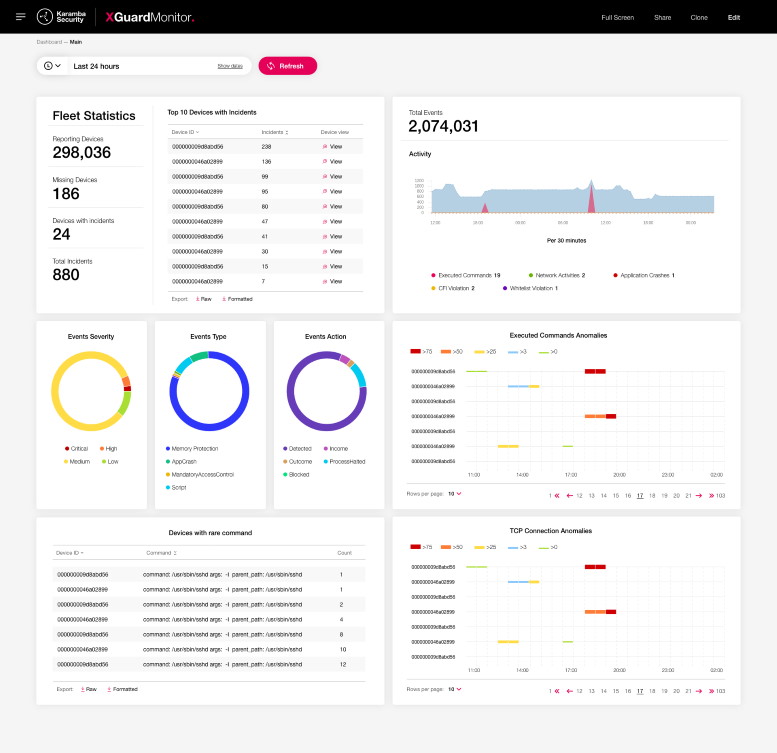 XGuard Monitor Security Advantages
Israel
24 HaNagar Street
Hod Hasharon
45277-13
Tel: +972 9 88 66 113
USA
41000 Woodward Ave
Building East, Suite 350
Bloomfield Hills, MI 48304
Tel: +1 833 4KARAMBA
Germany
Wasserburger
Landstr. 264, Munich
81827
Tel: +49 892 1547 7583