EcoMotion 2017
EcoMotion is a community with over 700 affiliated organizations related to the Smart Transportation sector. EcoMotion's 2017 Main Event presented a showcase of vehicle technology companies and a variety of panels and presentations. Ami Dotan, CEO & Co-Founder of Karamba Security, was invited to participate at the "Cyber for Cars" panel to answer paramount questions that concern the automotive cyber security industry.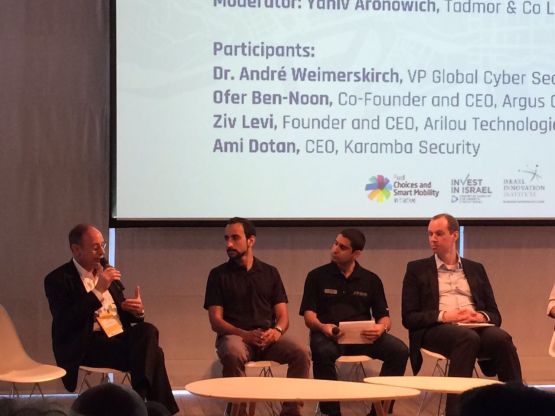 Introducing a Different Cybersecurity Solution
Ami was asked to present Karamba's solution and highlight what differentiates it. He replied "We are not a network security solution, which is a pervasive method in data centers. We enable car ECUs to autonomously protect themselves, by blocking anything that is not part of their factory settings. Therefore", he added, "we are not exposed to the issues that the industry finds hard to deal with. i.e. false positives that can risk lives, continuous updates on new malware and their signatures or zero-day, rushing to apply security patches to resolve newly discovered vulnerabilities, while being exposed to hackers during the time it takes to implement such patches."
Understanding the risk of having false positives in a connected vehicle, influenced the moderator to ask about standardization for automotive cybersecurity. "I believe that Karamba can lead the way for standardization in Automotive Cybersecurity" replied Ami.
Fundraising Tips
The process of raising funds, acquiring new investors and building fruitful relationships with them is an important challenge for young companies.
Ami shared with the audience the background for Karamba Security's recent \$12M Series B funding. "Things are very dynamic for us. We announced on Tuesday, the addition of strategic investors to Karamba. As a matter of fact, Fontinalis Partners, Paladin Capital, Liberty Mutual, and Sumitomo, had initiated contact with us, after learning about Karamba's fast market traction from their networks." He said.
Seems to be that the right product creates an organic pull when it comes to investors.
The Next Leap in Automotive Cybersecurity
Who knows what the next leap in automotive cybersecurity will be? What the auto industry agrees about is that a detection process per-se cannot assure that the vehicle or the passengers it carries will be protected. Car manufacturers understand the necessity of preventing cyberattacks before they succeed to infiltrate into the car.
The only current solution in the market that prevents cyberattacks with zero false positives is Karamba Security's Carwall. It hardens the vehicle's ECUs according to factory settings and blocks hackers attempts to change them. Ami wrapped up saying "Don't wait for hackers, block them when they attempt to hack."